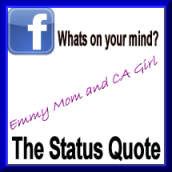 Yes, it's time for those odd, weird, wacky things our friends say elsewhere, you know where. Go link up with Emmy and CA girl.
• Attention Facebook Friends: All my profile pictures have been altered with Photoshop. But if you want to see what I really look like, just look out your window.

• Getting back together with an old boyfriend is pathetic. It's like having a garage sale and buying your own stuff back.

• "How many people here have telekenetic powers? Raise my hand"