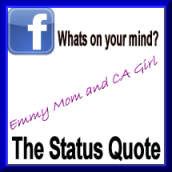 Time to link up with CAGirl again. Omitting names to protect the infamous:
"In Utah you haven't had enough Diet Mountain Dew until you can thread a sewing machine while it's running." (liberties taken)

So much to do ... so few brain cells to do it with.

You're only young for a little while. If you act like a fool after that, You're going to need a new Excuse!!!

"It can be said of optimism that while sometimes mistaken, it is never sadly mistaken."

If I could change one American mispronunciation I think it would be labratory. It is LABORATORY people!

Seriously now its 2011. could we please get some waterproof phones. at least once a day 1 of my friends, drops theirs in the toilet. Sheesh! !!