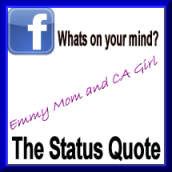 • We're Vikings. We have stubborness issues.
• TOP RAMEN! :D
• If going to church makes you a christian, does going to the garage make you a car?
• All I'm asking for is a day without any made up words. Seriously, Clairol, "Silkenating" ingredients?
• Thinks Dat Peepl who type like dis need 2b Smacked in da head wit a DICTIONARY! R U Wit me? hahaha
• Sleep..Facebook...sleep.....Facebook...........zzzzzzzzz
• "It's weird... people say they're not like apes. Now how do you explain football then?"
• someone shut that rooster up before I do!!!
Go link up with
CAgirl
to see more!